Games Available Now
iTrax
Use problem solving and a keen eye to win!
A game of tactical tracking and speed! Use problem solving and a keen eye to find the path connecting 2 blocks. Then recreate the path as fast as you can with your own pieces. Watch out, though, your mind could be playing tricks on you! Three levels of play keep you challenged.
Includes 44 pieces, 25 double-sided pattern cards and Activity guide
Cards measure 8"L x 8"H
---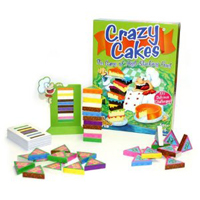 Crazy Cakes

It's a busy day in Crazy Cake Café!
Baker Bernie needs your help getting cakes stacked as quickly as possible so they can be delivered. How fast can you stack your twelve layer cake? Slip a recipe card in the menu and go to work! You've got to be faster than all the other bakers! ... Chocolate -Strawberry -Chocolate -Vanilla -Vanilla -Tangerine -Blueberry...
Wait! Three vanilla? Better unstack quick and fix! (As in any busy bakery, things WILL get a little crazy.)
The first player to finish stacking one of Baker Bernie's famous twelve layer cakes wins a recipe card. Collect ten recipe cards, and winning the game will be the icing on the cake!
Crazy Cakes is a fast-moving game and a delectable sequencing, brain-teasing treat!
---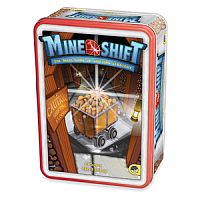 Mine Shift




EXCLUSIVE! Move the Mine Walls to Master the Maze
How can you forge ahead through the jeweled walls of the mine shaft? Shift them! Rotate a game tile a quarter turn to move the mine wall and allow your gemstone access. Or rotate tiles to prevent your opponent from moving. There are walls everywhere, but strategic miners can successfully make their way through to the other side. With 27 game board tiles, the set-ups are unlimited for a brand new game every time you play.
2 players
Recommended Ages: Ages 8 and up
http://www.mindware.com/p/Mine-Shift/52139
---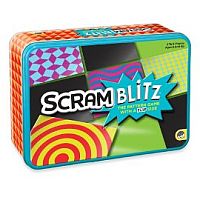 Scramblitz



EXCLUSIVE! The Competitive Puzzle Game That Has a Flip Side
This game requires fast thinking and faster fingers. Each player starts with a mat and a set of 16 double-sided tiles. Your objective: be the first player to arrange your tiles to match the puzzle card. The challenge: which sides of your tiles should face up? It takes plenty of flipping, flopping and swapping to win the game. Includes 50 double-sided puzzle cards, 96 double-sided tiles, 6 mats and instructions. 2 to 6 players.
Recommended Ages: Ages 8 and up